Residenz Zugspitzblick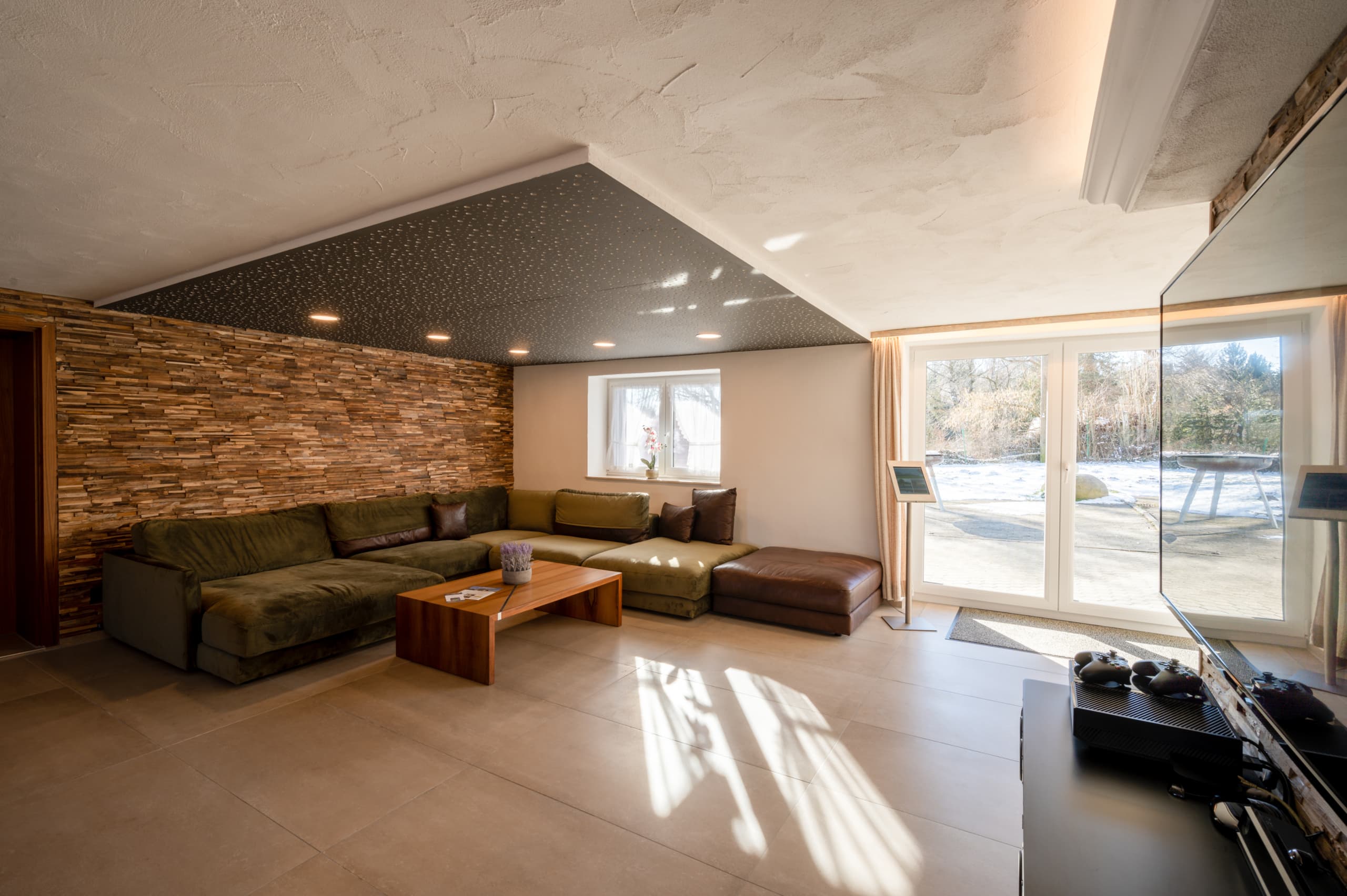 The Residenz Zugspitzblick is the largest holiday flat in the house. It extends over 2 floors and offers space for up to 17 guests with its 6 bedrooms as well as 2 sofa beds and an additional single bed. In addition to the beautifully furnished rooms, it impresses above all with its large and well-equipped lounge.
Special features

Equipment: Double bed, SAT-TV, Nubert loudspeakers, sofa bed in the living room (+1 cot), shower/WC, mini safe, hairdryer, 1 + balcony access.
Basic equipment: double bed, SAT-TV, shower/WC, hairdryer, minisafe, 1 + single bed
with urinal on the ground floor
Space for up to 17 guests
98m2, SAT-TV, internet, large open kitchen with counter, dining table, couch corner, hanging chairs, pool table, X-Box, fireplace
throughout the house and outside
Equipment: 4 plate cooker with ceramic hob, dishwasher, 2 ovens, fully automatic coffee machine, microwave, kettle, blender, toaster, crockery, cutlery, glasses, large and small pots, pans, cooking utensils, grill outside, basic equipment of sugar, pepper, salt, vinegar, oil, washing-up liquid, tabs, coffee filter.
Summer equipment: 2 tables, seating, large swivelling charcoal grill, parasol with stand. Winter equipment: Snow shovels, grit
Equipment: 75″ 4K SAT-TV with Netflix account, X-Box ONE S with Kinnect (game control by body movement), APPLE TV 4K with Applemusic flatrate for unlimited music streaming, WLAN AC throughout the house and outside, Nubert active soundbar nuPro AS-450, iron
state-of-the-art technology
Table tennis table (+ balls and bats), table football, dart board (+ darts), boxing bag, stereo, snack machine).
39,00 €/ day. For more information see "Prices".
Further information

The Residenz Zugspitzblick comprises 6 spacious, stylish rooms. These are all equipped with Double bed, private bathroom with shower and WC, hairdryer, satellite TV and mini-safe. equipped. Furthermore, they contain details that give each room its own charm:
Carver's room - the carver's room consists of a separate, cosy sleeping area and a large living room with sofa bed and cot. The room is complemented by a large SAT TV and Nubert speakers that will delight the heart of any sound lover.
Style room - the style room also consists of two rooms. There is a large wardrobe in the sleeping area and a sofa bed in the living area. Technically, nothing is missing here either. Both rooms are equipped with satellite TV and the living room is additionally equipped with Nubert speakers. The highlight: access to the balcony.
Bright farmhouse room -  the Bright Farmhouse Room consists of a large room that is flooded with daylight through the floor-to-ceiling windows. It has access to the balcony through these. Next to it, there is a small sitting area and a large wardrobe, which round off the cosy wooden look of the room. The technical equipment is complemented by a satellite TV and a Nubert sound bar.
Dark farmhouse room - In addition to the stylish double bed, there is a cosy single bed in the dark farmhouse room. The cosy room in wood look is rounded off with a large wardrobe as well as SAT TV and Nubert soundbar.
Blue Room - In the Blue Room, an armchair invites you to read and relax. The room is completed with a wardrobe as well as a satellite TV and Nubert soundbar.
Green room - the Green Room is the only one on the ground floor and is accessible at ground level. The cosy room offers a beautiful view of the green surroundings. Technically, it is equipped with a satellite TV.
A highlight of the Residenz Zugspitzblick is the approx. 98m2 lounge. In addition to the cosy sofa corner with table, there is an open kitchen with counter and a large table with room for up to 15 people. Here you can spend sociable hours cooking together, playing games or sitting by the fireplace - and simply feel good.
The open fireplace, where you can even bake a pizza, creates a cosy atmosphere and brings some warmth into the round, especially on colder days. In addition, there is a pool table and hanging chairs that invite you to relax.
Technically, the whole thing is rounded off with a large SAT TV with swivel arm, an X-Box with Kinnect and, of course, WLAN.
The kitchen offers the following equipment:
Large Side by Side refrigerator with ice cube dispenser
4 plate cooker ceramic hob
Dishwasher
2 ovens
Fully automatic coffee machine
Microwave
Kettle
Mixer
Toaster
Lots of large and small pots and pans
Casseroles
sufficient coffee and eating utensils
Cutlery
Different glasses
Cooking utensils
Outdoor barbecue
An initial supply of sugar, pepper, salt, vinegar, oil, as well as washing-up liquid, tabs and coffee filters will be provided on arrival.
Although you are in a former farmhouse, you will want for nothing in terms of technology. Here are the technical details:
75″ 4K SAT-TV with Netflix account
X-Box ONE S with Kinnect (game control through body movement)
APPLE TV 4K with Applemusic Flatrate for unlimited music streaming
Wi-Fi AC throughout the house and outside
Nubert nuPro AS-450 active soundbar
Iron
Mandatory
Overnight stay - from €45.00 - €75.00 per person/night
Children under 4 years free of charge
Children and youths up to 14 years receive 50 % discount
Depending on the season, up to 20 % discount on the booking total for groups booking with us for longer than 8 days!
Final cleaning - 199,00 € lump sum
Waste disposal - 15,00 € lump sum
Electricity contribution - 1,00 € per person/day
Visitor's tax (depending on age) - 0,00 €-1,00 € per person/day
Extras
Pets - 15,00 € per pet/night
Towels - for 7,50 € p.p. rentable
Sauna
45,00 € / 1 day
65,00 € / 2 days
149,00 € / 1 week
E-bikes - from €25.00 per day
Start 360° Panorama Tour now!